April : Meet your IoT software expert
Things are moving fast for Witekio, it's time to meet our IoT software experts
April 4-5th : Meet Witekio IoT experts at Sido 2018 - Booth C08/D07-7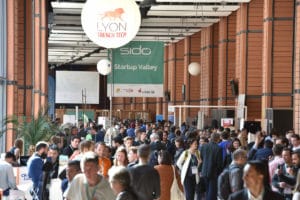 You'll also find us at three conferences : 
The right architecture to fit your IoT application

- April 4th, from 16:15pm to 17:00pm

Witekio - Lacroix Workshop - From IoT Poc industrialization stakes and challenges, how to avoid the pitfalls?

- Our expert will lean on the case of the connected water heater - April 5th, from 11:45am to 12:30am

Face the challenge of Agile method in IoT projects

-  April 5th, from 15:15pm to 16:00pm
We'd love if you'd come and get to know us in person, Register here
Big changes for Witekio early April : We are moving into our brand new office!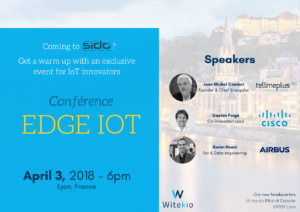 For this occasion, renowned speakers will introduce what is Edge IoT, what are its main stakes and challenges
Witekio can help you develop the next generation of smart connected devices. Ask your questions to our IoT software experts during our dinner cocktail.