To build a software platform place to accelerate the development of projects, Witekio worked as a partner with Solvay to setup a custom software platform. The goal is to enable cost effective, secured and rapid IoT solutions deployment.
Solvay has spent the last few years testing & learning about IoT by using off-the-shelf solutions and developing several POCs. But how to move on to the next phase which is about delivering a full industrialized IoT service offer? How to make this offer accelerate the deployment of these solutions within the Group, while keeping a high level of security?
To overcome that challenge, Solvay partnered with Witekio to design and build an IoT "factory" that would accelerate IoT projects in the Group. The aim was to provide key services to all the Business Units to improve their chance of success for industrialization and ROI. Witekio was in charge of the first building block of that "factory": a custom software platform to enable cost effective, secured and rapid IoT solutions deployment.
The software platform challenges
Highest level of cybersecurity to comply with the demanding requirements of chemical factories.
In-depth investigation into the main possible use cases to develop a custom and versatile IoT platform.
Ensure strong reliability/availability.
Develop a platform that can handle a wide variety of technologies (wireless sensors, telecom protocol, cloud integrated solutions…).
The Witekio response
Witekio acted as the external R&D team that would benchmark all relevant technologies, design a scalable and reliable architecture, and perform custom developments to bridge the gap between customer's infrastructures and IoT technologies.
A dedicated team with business transformation consultant, UX designer, senior architect and IoT/embedded guru
4-step approach: business units need exploration, 360° technological benchmark/audit, deep architecturing and platform development
3 parties' integration to build an ecosystem around the factory
Key success factors for the construction of Solvay software Platform
UX and consulting mindset to focus first on business value and user acceptance.
Both extensive and deep knowledge of embedded and IoT technologies,
Technology and platform agnostic when selecting the best solution based on the customer's goals
High reactivity/flexibility thanks to our multi-national footprint and our flexible business model.
Perfect fit between customer and Witekio's teams, both passionate and hands-on!
"Setting up from the very beginning one Solvay experimental team mixing expert of instrumentation, plant and lab engineers, IT/Telecom specialist, was I think the best choice we ever did. The team was totally focused on the business value and started by visiting plants & labs to clearly see the business needs. Then, Witekio has been a great technological guide into this IoT world that was new to us and helped us to design and build a scalable and reliable architecture"
– Antoine Roy – IoT software platform project leader – Solvay.
Key achievements until now
More than five business cases designed with different business units.
An IoT Lab here to experiment and learn IoT technologies (Azure IoT, Thingworx, Sigfox, Lora, LoraWan, GCP IoT) and use cases.
An IoT platform ready to support the integration of multiple use cases.
Next steps:
Preparing the scale phase with selected business units whose ROI potential has been identified as substantial thanks to IoT.
To help think big, act small and scale fast.
About Solvay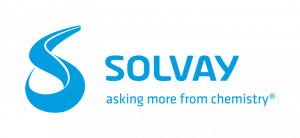 Solvay is an advanced materials and specialty chemicals company, committed to developing chemistry that addresses key societal challenges. Solvay innovates and partners with customers worldwide in many diverse end-markets. Its products are used in planes, cars, batteries, smart and medical devices, mineral and oil and gas extraction. Their goal is to enhance efficiency and sustainability.