Learn from the best
Free IoT and Embedded Software Learning Resources 🙏
All our Webinars and Podcasts, in one place.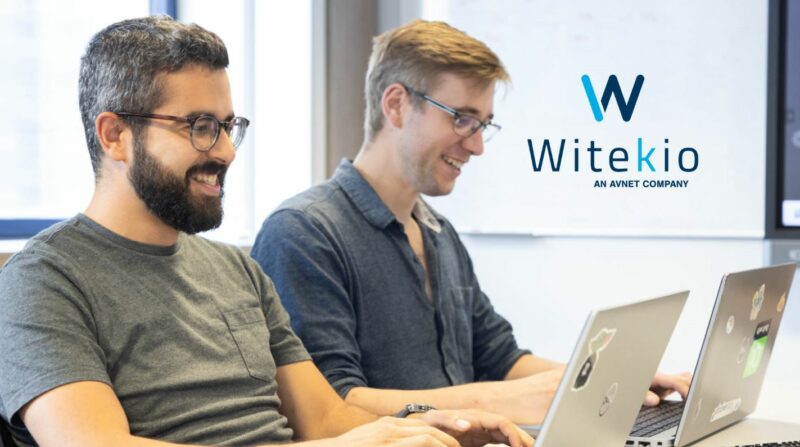 Welcome to our dedicated page for Witekio webinars and podcasts, where we explore the world of embedded software development and the Internet of Things (IoT).
As a company focused on delivering high-quality software services, we have extensive experience in creating solutions that power devices across a range of industries.
 Our educational resources provide a platform for us to share our knowledge and insights with the ecosystem, as well as feature guest speakers who are driving innovation in this exciting field. 
Custom Embedded Linux Systems Made Easy
Looking to explore how you can streamline your embedded development?
Witekio and Octavo teamed up to discuss how the right hardware and software combination will help OEMs to reduce their time-to-market, lower development costs, and create more robust embedded systems.
Aired May 31st, 2023
Yocto Master Class – Managing and Maintaining a Yocto Distribution with Secure Updates
In this master class, our experts will help Product Managers and Engineers understand the importance of keeping your Yocto up-to-date, as well as how to overcome the difficulties that come with this.
Aired November 16th, 2022
Yocto Master Class – Understanding variables and overrides
In this master class, our experts will help Product Managers and Engineers understand the mechanisms of Yocto, as well as how to integrate their software with connectivity services such as Mender.
Aired July 22nd, 2022
Yocto Master Class – multiple product variants or SKUs when using Yocto
Witekio and Mender.io join forces to help Product Managers and Engineers handle the development, management and updating of multiple product variants or SKUs when using Yocto.
Aired March 8th, 2022
The 5 Key Success Factors to Deploy Yocto for "Production Grade" Embedded/IoT Devices
Witekio looks at the main elements to build into your distribution and system, to have an all-around solid, manageable, and "production-ready" device.
This presentation builds around 5 different axes: Optimization, visibility, remote control, security and planning.
Aired 2021.
NXP – Secure by Design 
Amanda McGregor speaks about implementing security into IoT products with the help of the i.MX8 MCU.
OEM builds security enablement systems into their design specs, from development through to product release.
The i.MX 8, which can run Linux, has great security capabilities.
Warning to OEMs on the alarming statistics regarding breaches (up 67% in the past 5 years) and, with new regulations coming into play, the recommendation to implement additional security into new and existing products.
IoT Ecosystem Security – How to identify and secure threats on your connected device
If you are bringing a connected device or product to market, making sure it's secure is vital. That's why Witekio and Pentest have teamed up to outline exactly how to assess, test and solve IoT Ecosystem security issues.
Aired December 6th, 2022
Securing IoT Systems End-to-End
Witekio and Avnet Embedded are here to help guide project managers in the jungle of IoT security standards and frameworks. Which apply to your product?
Aired February 3rd, 2022
IoT device and security – 3 steps to meet your market
Witekio, internet of Trust & Synacktiv join forces to help OEMs & Smart Device manufacturers design an appropriate Security Strategy.
In the Jungle of standards and non-existing IoT norms, we will guide you through a tri-level approach to tackle the challenges of the IoT Security Journey.
Aired on September 1st, 2021
Automated IoT testing – is it a game changer for product quality?
In this webinar, our experts examine all the ways that automated IoT testing can help you boost your time to market, as well as improve your product lifecycle.
Aired October 4th, 2022
Leveraging the IoT Cloud with AWS and Azure
Learn how to connect your IoT devices to the Cloud
Explore possibilities of AWS and Azure's Cloud solutions
Get your devices secured
Get your mind blown by our cloud architect's demos
Questions and answers between the attendees and the speakers
November 19th, 2020
Aired February 14th, 2023
Flexible Architecture to Meet HMI
and Real-Time Operation
If you have multiple heterogenous cores running different OSs in your IoT device, it is essential that the software running across them can communicate effectively.
To enable that intercommunication with lower design costs for you and faster time to market, STMicroelectronics has integrated the standard OpenAMP framework into the MP1 – running on the Cortex-M4, to communicate with the A7 CPU.
Xilinx Kria SoM 
In our latest Witekio Podcast, we're joined by Chetan Khona the Senior Director Industrial, Vision, Healthcare & Sciences at AMD to talk everything Xilinx Kria SoM
Listen on to find out:
Exactly what Xilinx Kria SoM is
What you need to get started
The advantages of using Kria SoM compared to a board processor
Leveraging Software Power on a System in Package Platform (SIP)
Witekio, ST Microelectronics & Octavo join forces to help OEMs & Smart Device manufacturers leverage Software power on a System in package platform (SIP).
How to gain market share within the embedded market
What are the key advantages of the SIP
How to facilitate customer app port thanks to the Debian distro on top of the STM32MP1 based SIP
What are the benefits to the SM32 MP1
Aired on October 21st, 2022
Leverage software power on STM32 microcontrollers
A webinar with our partner STMicroelectronics on how to leverage software on STM32 microcontrollers.
Aired December 2nd, 2021
Bring Agility to the development of your HMIs
In this webinar, Witekio and QT discuss why and how you can use Qt to develop modern HMIs in an agile way.
Speakers:
Grégoire Lanaud – Business Development & Account Manager – Witekio
Emmanuel Penzes – Pre-Sales Engineer – Qt
Arm SystemReady 
In our latest Witekio Podcast, we're joined by Grant Likely, Senior Director and Distinguished Engineer at Arm to get to the bottom of their new Arm SystemReady project.
Discover: 
What is Project Cassini?

 

What does a compliance certification program mean?

 

What are the benefits of Arm SystemReady for software developers?

And more….

 
Make or Buy – How to make the right move
Witekio, Avnet Embedded, Qt & Microsoft join forces in a Webinar to help OEMs & Smart Device manufacturers choose the appropriate Make or Buy strategy.
Aired on October 28th, 2022